Home Page Main Contents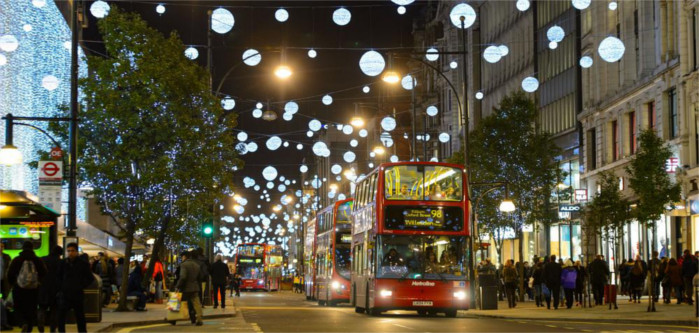 London Shopping
LHRC, The One Stop Booking Shop for all Visitor Requirements, Special Offers & Discounts.
When to Shop
Most London stores and shops open by 09:30 and close around 18:00 from Monday to Saturday, although Covent Garden shops are usually open until 20:00. It is rare for shops to close for lunch. Late night openings differ from area to area e.g. Wednesday for Knightsbridge and Thursday for Oxford Street and Regent Street
Tax Free Shopping
Most major stores and shops in the West End are part of the Tax Free Shopping scheme. The refund scheme applies only to people who are resident outside the European Union. Make sure the shop where you purchase the goods is part of the scheme; there may also be a minimum-spending limit
Where to shop ?
Each of London's shopping areas has an atmosphere of its own as well as its own range of shops and stores which makes that street special. On a short visit to London choose one or two areas to explore. For those who know London well it is easy to go to the same places - so try something different. Here are some of the characteristics of London's shopping areas.
Bond Street
Bond Street was once home to the Regency Dandies and is now an enclave of designer fashion, jewelers and art galleries. The street is enjoying a renaissance as stores and shops invest in greater and grander premises.
Covent Garden
At the end of the century Covent Garden was a crowded, colourful and bawdy fruit and vegetable and flower market. After a period of decline the refurbished market buildings have revitalized the surrounding area, making it one of the liveliest in London for shopping, eating and entertainment. This is a fascinating area with a crafts market and many different shops and stores in the market building and side streets. Street performers provide a lively accompaniment to shopping and eating seven days a week.
Kensington High Street
Kensington High Street really comes alive on Saturdays when young Londoners head for the market and the fashion shops. Kensington Church Street running between Kensington High Street and Notting Hill Gate is home to many wonderful antique shops.
Knightsbridge
Once a village, Knightsbridge is home to two of the most famous department stores in London, Harrods and Harvey Nichols, along with several top designer boutiques. Exclusive Sloane Street is lined with the ultimate in high fashion, with all the popular designer names.
Oxford Street
Europe's most famous shopping street hardly needs any introduction but it is always changing. Selfridges, Marks & Spencer and dozens of other stores and shops have invested millions of pounds to provide elegant and comfortable shopping surroundings. Most high street names can be found on Oxford Street.
Piccadilly - Jermyn Street
In Piccadilly, Simpson - home of elegant fashion - is almost next door to the culinary pleasure of Fortnum and Mason. The fantastic Georgian architecture of the Burlington Arcade on the north side houses elegant shops and is policed by the famous Beadles.

For 300 years Jermyn Street (to the south) has been the smartest of London's shopping areas serving royalty and the upper echelons of the aristocracy. Today Jermyn Street is home to a standard of craftsmanship and quality rarely seen. It boasts a variety of merchandise from handmade shoes and shirts, to perfume.
Regent Street
The graciously curved Regent Street may once have been quite staid but today Warner Bros., Levi's and Liberty sit comfortably together. Cashmere. China, jeweler and Hamleys, the world famous toy shop, are all here.
Westfield London Shopping Centre
Westfield London is a shopping centre in White City, London, United Kingdom, in the London Borough of Hammersmith
Camden Lock Market
Camden Lock Market is a fantastic day out shopping. We specialise in bringing you the very best designer makers, craftspeople, artists and specialist shops. With thousands of unique products available and an amazing selection of global food, bars and restaurants on-site, Camden Lock Market is the perfect place for a great day out.
Whiteleys of Bayswater
A shopping centre located next to Queensway Tube station, with a variety of shops, Restaurants and a Cinema.

Queensway, London W2 4YN Phone:020 7229 8844
Brent Cross Shopping Centre
A very large shopping complex located in North London.

Prince Charles Drive, London NW4 3FP, 020 8202 8095